2016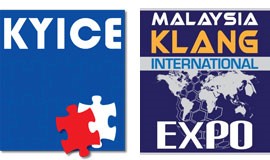 4th Malaysia Klang International Expo & 4th Klang Yiwu Friendship Cities International Commodities Exhibition
2 – 4 Dec, 2016
Following the overwhelming response from previous year, Soy Asahi is back in joining the 4th Klang-Yiwu Friendship Cities International Commodities Exhibition (KYICE) at the GM Klang Wholesale City in Klang from December 2-4, 2016. from 10am to 6pm daily. The exhibition showcases the combined strength of small and medium enterprises (SMEs) in the country as well as features businesses and buyers from Yiwu and other parts of China and the ASEAN region.

Date
:
2 ~ 4. 12. 2016
Time
:
10:00am – 6:00pm
Venue
:
GM Klang Wholesale City
Jalan Kasuarina 1, Bandar Botanic Capital,
41200 Klang, Selangor, Malaysia.
www.klangyiwu.org/en/
---