Dessert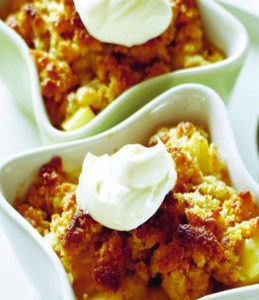 Crunchy Apple Custard
COOKING TIME : 30 MIN
SPICINESS :
SERVES:
INGREDIENTS
3 cups – Apple slices
3 tbsps – ChocoRICH Instant Custard Original
3 tbsps – Sugar
2 cups – Milk
2 tbsps – Brown sugar
DIRECTIONS
Combine the ChocoRICH Instant Custard Original and 2 tbsp of sugar along with 1 tbsp of milk in a deep bowl and mix well to a smooth
mixture.
Heat the remaining milk in a nonstick pan, add the prepared custard mixture, mix well and cook on a medium flame for 2 minutes or till the mixture thickens, while stirring continuously. Keep aside.
Combine the apples and the remaining 1 tbsp of sugar along with ½ cup of water in non-stick pan, mix well and cook on a medium flame for 2
to 3 minutes or till the apples turn soft.
Spread evenly cooked apple slices in a baking dish and pour the prepared custard over the slices.
Sprinkle the brown sugar on top and bake in a preheated oven at 200°c (400°f) for 15 minutes.
Serve warm when the sugar topping is crisp.


Handy tip:




1. Always keep stirring the custard while cooking as it tends to
stick to the vessel or form lumps.
2. You can use stewed peaches or pears instead of apples.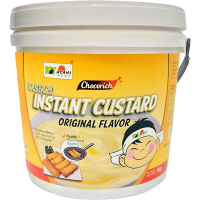 ---