Dessert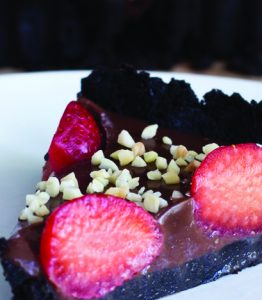 No-bake Strawberry Chocolate Cake
COOKING TIME : 25 MIN
SPICINESS :
SERVES:
INGREDIENTS
Crust:
300g – Oreo cookies
1/2 cup (110g) – Butter; melted (same as 110gram butter)
Chocolate Filling:
300g – ChocoRICH All-Purpose Chocolate
200ml – Heavy cream
Topping:
300g – Fresh strawberries (any fruits according to your reference)
100g – Chopped nuts (Almond, pistachios, etc – optional)
DIRECTIONS
Crust Instructions:
1. Blend Oreo cookies with a food processor until crumbs formed.
2. Add melted butter to the crushed cookies and mix till thoroughly combined.
3. Press cookies mixture, into the bottom and sides of a rectangular (12x36cm) tart pan / a round shape (20cm diameter) tart pan.
4. Freeze it while you prepare the filling.
Chocolate Filling & Topping Instructions:
1. In a small saucepan, place heavy cream over medium-low heat for a few minutes. No boiling or simmering needed.
2. Remove from heat and combine with ChocoRICH All-Purpose Chocolate in a mixing bowl until dissolved.
3. Pour chocolate filling over Oreo crust and top with fresh strawberries (optional).
4. Refrigerate for at least 2 hours or overnight before serving.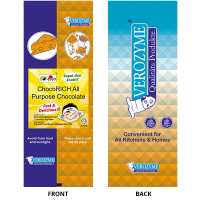 ---