Recipes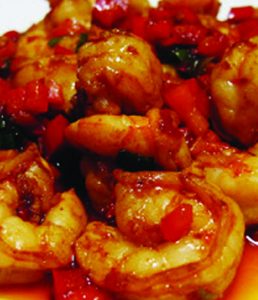 Spicy Szechuan Shrimp
COOKING TIME : 30 MIN
SPICINESS :
SERVES:
INGREDIENTS
4 tbsps – Water
2 tbsps – Hot&Spicy BBQ Marinade Sauce
1 tbsp – Soy sauce
1 tbsp – Seafood Stock
1 teaspoon – Honey
1/2 teaspoon – Crushed red pepper
1/4 teaspoon – Ground ginger
1 tbsp – Vegetable oil
1/4 cup – Sliced green onions
4 cloves – Garlic, minced
12 ounces – Cooked shrimp, tails removed
DIRECTIONS
In a bowl, stir together water, Hot&Spicy BBQ Marinade Sauce, soy sauce, Seafood Stock, honey, crushed red pepper, and ground ginger. Set aside.
Heat oil in a large skillet over medium-high heat. Stir in green onions and garlic; cook 30 seconds. Stir in shrimp, and toss to coat with oil. Stir in sauce. Cook and stir until sauce is bubbly and thickened.

---