Recipes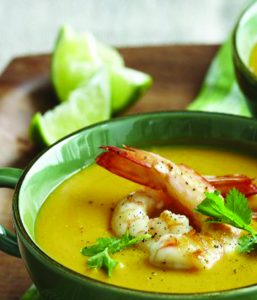 Thai Curry Soup
COOKING TIME : 50 MIN
SPICINESS :
SERVES:
INGREDIENTS
1 tbsp – Olive oil
1 clove – Garlic, minced
1 1/2 tbsps – Minced lemon grass
1 tbsp – Ground ginger
2 tbsps – Red curry paste
1 liter – Chicken Broth
2 tbsps – Seafood Stock
1 tbsp – White sugar
1 can – Reduced-fat coconut milk
1/2 cup – Reeled and deveined Medium shrimp
1/2 cup – Sliced mushrooms
1 bag – Baby spinach leaves
2 tbsps – Fresh lime juice
1/4 cup – Chopped cilantro
2 – Green onions, thinly sliced
DIRECTIONS
Bring a large pot of lightly salted water to a boil. Add rice noodles and cook until al dente, about 3 minutes. Drain and rinse well with cold water to stop the cooking; set aside.
Heat oil in a large saucepan over medium heat. Stir in garlic, lemon grass, and ginger; cook and stir until aromatic, 30 to 60 seconds. Add the curry paste, and cook 30 seconds more. Pour in about 1/2 cup of the chicken broth, and stir until the curry paste has dissolved, then pour in the
remaining chicken stock along with the Seafood Stock and sugar. Bring to a boil, then reduce heat to medium-low, partially cover, and simmer 20 minutes.
Stir in coconut milk, shrimp, mushrooms, spinach, lime juice, and cilantro. Increase heat to medium-high, and simmer until the shrimp turn pink and are no longer translucent, about 5 minutes.
To serve, place some rice noodles into each serving bowl and ladle soup on top of them. Garnish each bowl with a sprinkle of sliced green onion.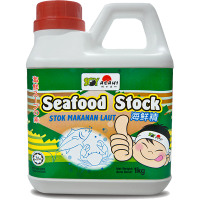 ---